Top Notch Bulk SMS for Your Business
Everything You Need To Know About Our BulkSMS in Nigeria

Our reliable BulkSMS website designed on SmsMobile24.Com, for you to send online text messages to GSM numbers in Nigeria, is open and ready to serve you whenever the need to send bulk SMS arises.

We provide the cheapest and most reliable customer-driven service which comprises Customized Bulk SMS Service, Reseller SMS Gateway, Sender ID Registration and Targeted SMS. Our record-breaking bulkSMS service focuses on providing you 24/7 undeniable access that will help you contact your recipients, create opportunities and strengthen communication.

All types of lawful messages are supported on Smsmobile24. Our user-friendly SMS interface has incomparable bulk SMS features that are required to deliver your text message instantly to a GSM number or large number of GSM subscribers' telephone numbers in Nigeria.

For your convenience, the cost of our bulk SMS is from 0.65kobo to 0.97kobo per unit of SMS, while the quantity of our SMS ranges from 500 to 10 million units of SMS.
If you pay N850, you get 1000 online bulk SMS units @ 0.85kobo per unit of SMS to send your text messages to GSM numbers in Nigeria.The number of SMS units you buy will determine the price per unit. The higher the quantity you buy, the lower the price you pay per unit of SMS.
Our unbeatable prices will enable you to buy online SMS at a cheap rate as the required number of SMS units increases. We charge different units of SMS to deliver a page of text message to each of the GSM operators' number prefixes.

Smsmobile24.com serves you better and helps you achieve more while you spend less.

Bulksmsnigeria is a state-of-the-art script on Smsmobile24.com that sends online SMS to multiple GSM subscribers to increase cost-savings and productivity.

Bulk SMS Service Charge Per Page of SMS

You need to go through the information below to know how you are charged for every page of online text message you send on our platform.

For instance, to get 100,000 units of bulk SMS, which is at the rate of 79kobo per unit, you need to pay N79,000. If you pay N79,000 into our bank account, you will be credited with 100,000 units of SMS to send online SMS to Nigeria GSM numbers. When you send a page of SMS (160 characters) to 1 MTN number, 2.5 units will be charged and deducted from the total of 100,000 units that you are having in your bulk SMS account with us to deliver a page of SMS to the MTN number.
From the example above, to know the cost of a page of SMS, you need to multiply the price at which you buy per unit of SMS which is 79kobo (based on the quantity you buy), by the required units of SMS for MTN number, which is 2.5 units. That is, 0.79 x 2.5 units = N1.97 per page of SMS. You can click PRICING to see the table for analysis where we did analysis on the price per page of SMS for the four (4) GSM networks in Nigeria.

Alternatively, we recommend BulkSMSNigeria 247 . Com which is also our bulk SMS website where we charge at a flat rate to 9mobile, MTN and Glo telephone numbers.
You are required to register with us and login with your username and password to send messages on the COMPOSE SMS page by clicking SEND SMS. Bulk SMS account opening is free. It takes less than a minute for a new user to complete the process and start sending online SMS on our top-ranking bulk SMS website in Nigeria.

As a new user, you can send bulk SMS for free, with the free trial units, from any internet-enabled device to mobile telephone numbers in Nigeria. This can be done on our platform from the members' area by clicking SEND SMS to use the 3 free SMS units or by clicking USE FREE SMS" on the Compose SMS page.
We assist our clients in setting up functional online SMS portals and support them in terms of maintenance.
You can buy bulk SMS directly on our BulkSMS platform with your ATM card details or through other means of making payment like cash deposit, cheque deposit or any form of transfer.
We have vast knowledge in sending online text messages across mobile networks in Nigeria. Presently, we have over 86,141 registered online SMS subscribers who depend largely on our foremost Nigeria bulk SMS as a means of communication. Our bulk SMS company maintains top-tier customer satisfaction and protects its integrity over the years.
Be rest assured and feel valued with our

number-one bulk SMS service that is specifically tailored to your unique needs and aligned with your budget.



You are confident of getting the best bulk SMS messaging experience on our website when you create a free SMS account with us and start sending your messages based on our Do's And Don'ts guiding instructions.

Bulk SMS Delivery To MTN Numbers Requires Sender ID Registration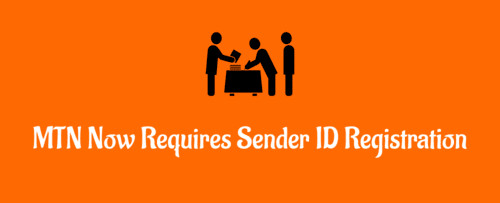 It is now mandatory to register sender IDs before you can get an online SMS message delivered to the MTN numbers in Nigeria. Every sender ID to be used must be registered with MTN. In other words, regardless of the country you are sending message from or the platform/website you are using, messages are not delivering to MTN numbers with unregistered sender IDs.
To test SMS delivery on our top notch online text messaging platform as a new user, you can use SMSMOBILE or click PRSI to choose a sender ID for your message content and send it to one of your GSM telephone numbers. Once the message is delivered, you can go-ahead to submit sender IDs that you proposed to be using in sending your messages on our platform for registration.
Please, note that sender ID registration does not overrule the existing Do-Not-Disturb (DND) policy.

How To Start Sending Bulk SMS in Nigeria

We make it easy for you to use SmsMobile24.com to enjoy the uniqueness of Bulk SMS Nigeria and fulfill your bulk SMS needs in Nigeria. Take the vital step now and start using our cheapest text messaging gateway to communicate effortlessly. Sign up for FREE now and get completely free 3 BulkSMS units to test our service.